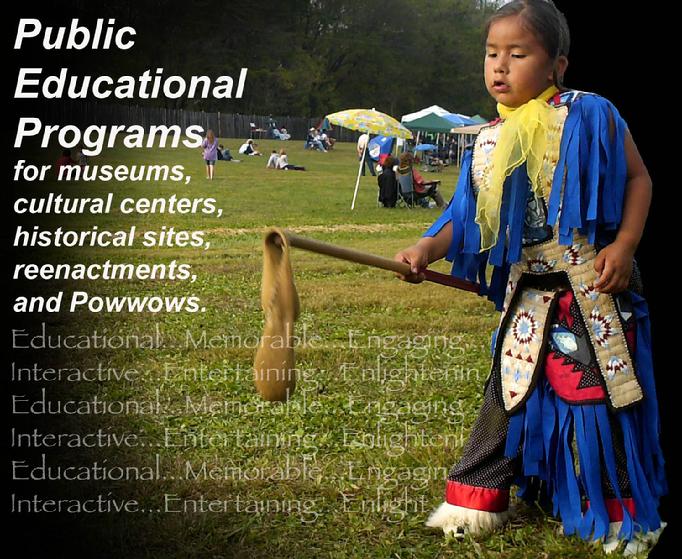 Powwow dancer plays with our doubleball set.
Photo albums of WIEP are posted for public viewing on Jessica Diemer Eaton's Facebook page. Click here to view her profile.

For living history events and reenactments:
We have provided several photos of our period garments and camp. Please click on each to view the photos for clothing and camp checks.

Living History, Period Garments, and Our Ethics
We utilize living history as an educational tool. We believe in its positive benefits. However, we only dress in period clothing or historical regalia when appropriate. These outfits are only worn in conjunction with educationally based programs. To do otherwise would be disrespectful. We reserve the right to not wear our period clothing or historical regalia if we deem it inappropriate or feel it not necessary, and will teach in normal, professional attire instead, as we do for school programs. We find wearing our period clothing to be appropriate for most history, museum, and powwow events.

And please note that although we do wear period clothing, we are not re-enactors, and do not act in "first person." We are historical interpreters who feel acting in this manner personally inhibits our teaching methods and our message of cultural and historical awareness (however we are still at home at any historical reenactment). We follow the trainning, lessons, and practices taught to me (Jessica) by my first museum job, and its professional environment and staff. We continue to utilize a fun, interactive, engaging, and above all, respectful program format and method of teaching.

These are our work ethics concerning the responsibility attached to the mixture of living history and Native American subjects. It is what we believe to be a positive (while respectful) force in the realm of spreading Native American historical and cultural awareness. It truly is not just everyone's history - it is a reclaimed history of the Native community, and it is their history as well as a continuing story of cultural identity. We respect this.